Upgrade

your business processes

.

Easy Project is
a software for upgrading business processes
, for the management of 
projects and portfolios, with a strong organization management component. it can be used in public organizations and private companies. Easy Project allows for digitalization and automation of your business and business processes in a simple way.simple way.
Easy Project especially contributes to the reduction and quickening of administrative processes, 
the increase in efficacy, the simpler organization of the collective, and the control of the status of current 
projects and of the projects' revenues and expenditures.

Visual representations of the status of projects, revenues, and expenditures of the project's finances
Optional forms of reports of the collective's work, time spent, cashflow, resource requirement
Structured business data on companies, public bodies, and contacts
Mind Map and Gantt chart view of the structure and status of the projects
Direct team communication in the chat window
Integrated Zoom meetings and calls
Records of work from home, sick leave, and vacation
Timesheet of the collective - employees' planned and spent time on projects, tasks, and meetings
Calendars - individual and collective, integrated with Outlook, Google, and other systems
Documents - all of the projects' documentation in one place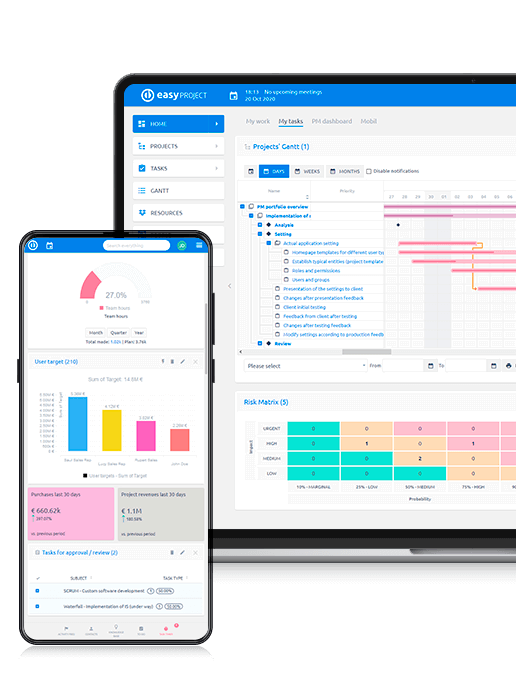 Other Easy Project features
:
Easy Project is a flexible software, extremely intuitive, and easy to use.
Users can skillfully use it without needing previous knowledge in the segment of organization and project management.
At the same time, it is a powerful tool for project managers and scrum masters that require an overview of a complex organization of people, resources, and detailed project monitoring.
What distinguishes Easy Project from other PM tools on the world market is the possibility of combining waterfall, agile, and scrum techniques of project management.
Do you want to improve your project management
?